Echo Company
Echo Company Membership

= a link to a remembrance has been posted for one who served, either on the Wall or Memorial page.


= a link to a donation that was made in the name of one who served, either on the Wall or Memorial page.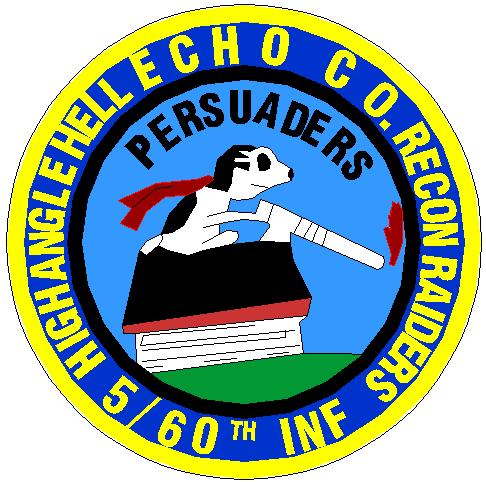 Echo Company
---
Benson, John O. – Raider Plt. – Rach Kien – 6/69 – 12/69
401 Link Road
Pendleton SC 29670
864-958-8178


[email protected]


Platoon Leader with Alpha Co. for two months then moved to Raider Platoon in Echo Co. Transferred to 25th Div in Dec 69. Would like to get in touch with any former platoon/company members.

Biggar, Robert C. – SGT – Recon – Cambodia, Binh Phouc, Cu Chi – 05/70 – 09/70
2504 W. Boone Ave.
Spokane, WA 99201-2957
(509)325-4886


[email protected]


I was platoon sergeant for the Recon-Raiders. I started out humping a radio in Cambodia from Shakey's Hill. We worked the populated area around Binh Phouc after that. Our last major operation was the Hobo Woods before the Battalion was deactivated.

Clancey, Peter M. – Rach Kien – 2/70 – 8/70
541 East Main Street
Bridgewater, NJ 08807-3230


[email protected]


Mortar Platoon/was transferred to 25th ID.

Crawford, James – Rach Kien, Binh Phuoc – 1/70 – 09/70
26770 Santa Rosa Drive
Moreno Valley, CA 92555
[email protected]
I was Commo Chief in Echo Co at Rach Kien and Binh Phuoc. I remember Dean, Ortega, "Saddle Bum" (Robert Norris), Jim Wagner and a few others.

Dean, John A. G. (Tony) – Recon – Dong Tam – 9/68 – 11/68
645 McArthur Drive
Harlem, GA 30814
706-556-6309


[email protected]


I came down to the Delta with the 1st/16th. Hope everyone is well.

Deane, Clifford – Recon – Rach Kien, Bien Phuoc – 09/69 – 09/70
119 Mayflower Lane
Meriden, CT 06450


[email protected]


I was with with Ortega & Blunk and all the others. Would you of ever guessed how it would all turn out?

DeHart, William – Recon – Rach Kien, Bien Phuoc – 2/70 – 7/70
220 Shell Road
Merion, NC 28752
828-738-4848


[email protected]


Served in the Recon Platoon as a sniper with Warloe, Clayton, Rutan, Cardenas, and Zuckerman. Was on Shakey's Hill in Cambodia.

Dodd, Dennis R. – Rach Kien – 6/69 – 12/69


[email protected]


I served as Delta Co 3rd Platoon leader from 6/69-12/69. Was then HHC LNO from 12/69 – 3/70. Finally Echo Company Commander (Captain) from 3/70 – 5/70.

Ford, Stanley S. – FDC 4.2 mortars – Rach Kien – 8/68-10/69
4506 Palm Avenue
La Mesa, California
619-741-5721


[email protected]


Those of you who served along side of me will be able to recall who I am because I don't think anyone who was there could ever forget it. It was probably in August or September of 1969. I was sleeping during an all night shift in FDC (Fire Direction Center). We would take turns napping in the wee hours. I was getting short, and had extended 63 days so I could ETS out of Nam. Outside the quiet was broken by a horn wailing into the darkness. I awoke from my bad dream and went right past my buddies and charged into the barracks screaming as loud as a man could scream, "Ground attack! Ground attack!" I went back into the FDC room and the people in there with me were putting on their protective jackets and grabbing for their M-16. It was about 4:00 a.m. The entire barracks emptied out the door. Richard (Tennesse) Thompson was one of the first out the door. He was also one of the first to come back in. I will never forget the look of relief when he stuck his head into
our door, and said in that strong southern twang, "Ford, that sounds to me like that horn in the deuce and a half just got stuck, that's all it is." Actually everyone had a look of relief. Not one of you were angry at me; if you were you never said a word. For that I have always been grateful. From time to time over the years when the subject of one's most embarrassing moment would come up, that has never been challenged by any other event in my life. I know that many promised each other that we would meet again in the "world". It never has happened for me. However the bonds made in Vietnam have remained incredibly strong for me as the decades have passed. I found David Tomberlin on the Internet and called him on Thanksgiving Day. We had not spoke to each other since our last day in Rach Kien, or perhaps Dong Tam. It was amazing how we spoke to each other. It was just like we had spoke yesterday. It was then I realized that we have all become alegend and somewhat of myth to each others wives and families. I would really like to find Steven Glore. I have so many memories of our adventures. One of which occurred one evening when mortars were being fired into our base. We didn't really know where to run or duck, so we did what most G.I.'s did, we hit the ground and hugged it with all our might. We were face to face and Steve said to me, "We could die. Right now we could be killed!" As Charlie walked the mortars ever closer we started to giggle. The booms grew louder and closer. With each blast we became hysterical and acknowledged to each other that we were laughing in the face of death. Soon they passed over. I think we both knew fear, and the helplessness it can bring. We could have cried just as easy as we laughed. One final question to other vets out there, have any of you experienced what I must have experienced at least three or four times. That is finding yourself in a situation where you are certain you were going to get your ass kicked by someone and some else says something to the effect "You better be careful, he went to 'Nam!" I guess the moral to that story is that every silver lining has a cloud.

Graziano, Joseph M. – Rach Kien – 1970
7814 W. Cherry Hills Drive
Peoria, AZ 85356
602-573-5345


[email protected]


Also served in Alpha Company.

Lofton, Elmer (Pete). – Rach Kien – 1968 – 1969
6507 Dryden Drive
McLean VA 22101
703-893-7275


[email protected]


Also served in Alpha Company and HHC

Johnson, Gus – Mortar Platoon – Rach Kein – 2/69-2/70
423-345-3208
I was in 4.2Motar of Echo Co. Anyone at Rach Kein in 1969 who called for, H.E.or Illumination rounds, I was one of the guys that sent it. Hope we did a good job. They dont have listing for the yellow house. Does anybody have any photos of the yellow house. Some of the other guys I remember in 4.2Motar of E. Co. in 1969–1LT Terrence Rudes, SFC James Woodard, David Tomberlin, Stanley Ford, Eddie Bailey, Steven Glore, Bernard Mendoca, Donald Okawa, John Watkins, John Acieno, David Slater, Robert Schutte, Maurice Motoda, David Rohe, Richard Thompson (Tennessee), Jesse Hall, Dial (Chief), Gerold Newell, James Beavers, The Professor, my 2nd. Squad Leader Charles M. Wright. Special interest in finding Gerold Newell, He was from California. Don't know the towns. His father worked with animals, in a lab. It has got to me that he was killed by a rocket in early 1970 at Rach Kein. Can't find his name on the wall listing. He was my friend.

Mills, Thomas L. – Rach Kien – 8/69 – 8/70
950 N. 12th Avenue
Broken Bow, NE 68822
308-872-5521


[email protected]


I was there when Recon was split and the Raider Platoon was established (69-70). I remember on 9/17/69 Raider platoon was pinned down by the VC and the commanders, Col Dale Crittenberger and Lt Col Leo Sikorski, and 10 other Americans were killed in a collision of a Huey and a Cobra. That was a bad day. I was at Ben Luc when our platoon worked the bush off of river patrol boats (PBR's). Dan Pizzuttillo saved my life and I would really like to hear from Dan. I started a PFC and ended up a Spec 4. I also went to the Plain of Reeds; Cambodia twice, once on ACV's; at Rach Kien; at Ben Luc; at Binh Phuoc and I was on Shakey's Hill. Some of the guys I remember are Norris Walter, Stanley Seroke, Joe Graziano, Dan Pizzuttillo, Lt. John Benson, Lt. Richard Owens, Stanley Patterson, Clifford Dean, Dick Hite, Ted Rensing, Willard Robertson, David Ortega, Andrew Jackson, Roger Taylor, Charles Mason, Ronald Isenhour and Charles "Tennesse" Hensley.

Ortega, David – Recon Platoon – Rach Kien / Binh Phuoc – 08/69-08/70
963 W. Oliver Street
San Pedro, CA 90731
310-833-8078


[email protected]


I was there when Recon was split and the Raider Platoon was established. Worked the canals with the Navy on PBRs and Alpha Boats out of Ben Luc, Plain of Reeds, FSB Jaime. Went to Cambodia (Parrots Beak) and spent time on Shakey's Hill in Mar of 70. I remember Willard Robertson "Chief", Sgt. Toles, Charles Mason, Malloy, Charles Hensley (Tennessee), John Ahrens, Dick Hite, Sgt. Andrew Jackson, Lt. Owens, Lt. Smith, Roger Taylor, Tom Mills, Sgt. Patterson, Glen Blunk, Jim Wagner, Sgt. Clifford Deane and others. I have made contact with Jim Wagner, Clifford Deane, Tom Mills, Glen Blunk, Tony Alexander (Mickey Alexander's brother) and Stanley Seroka. Pictures of them from Vietnam and as they are today can be found on the "Alive and Well" page of my Website. I hope to make contact with many more.
I also have a video on VHS (converted from 8mm) that I have sent to some of those I have contacted and am in the process of sending it to the others. I am also looking into having this video digitized so that it can be downloaded from my website for those who are interested.
Please log onto my website to see additional info on my tour and other information.
Web Page- www.MiTierraGrafix.com

Patterson, Stanley E. – Recon – Rach Kien – 2/69 – 2/70
7810 Idyle Wild Road
DuQuoin, IL 62832


[email protected]


Was assigned to Charlie Co, after about 3 months went to Recon Echo Co. Recieved E-6 stripe, became plt sgt. Remember and have pictures of Rodriguez, Norris, Morin, Farmer, Davis, Wyant, Lytle, Marks, Burnhurt, Smith, Maddox, Saldana, White, Hacker, Wills, Rons, Doc Paskal, Graziano, Malone, Ortega and tiger scouts who served with us.

Pizzutillo, Daniel M. – Recon Platoon – Rach Kien – 3/69 – 3/70
223 Lakehurst Avenue
National Park, NJ 08063
609-472-1778


[email protected]



Powers, Marsh (Morris) E. – Rach Kien – 6/69 – 3/70
8539 Linville Road
Oak Ridge NC 27310-9607
803-367-6349


[email protected]


Came up from the 4/47 mrf with several of the guys and went to recon. Found this web page this veterans day-2013. I have spoken to some guys I served with already. If you look at the recon co. picture I am the guy holding the banner with David Saldonia at my left. Would like to hear from any of "my brothers"

Rodriquez, Rene – Rach Kien – 2/69 – 4/71
551 NE 5th Street
Pompano Beach FL 33060
954-709-6802


[email protected]


MY NAME IS RENE RODRIGUEZ AND I SERVED IN E COMPANY 5/60 INF, RECON PLATOON, RACH KIEN, VIETNAM, FROM 1969-1970. MY WIFE, MIMI, WORKED NEXT DOOR IN THE GIFT SHOP/ LAUNDRY. SHE WAS THE GIRL THAT HAD LONG BLACK HAIR AND ALWAYS WORE A SKIRT AROUND THE COMPOUND. SHE WORKED FOR MS. LEE WHO OWNED THE GIFT SHOP / LAUNDRY. WE ARE STILL TOGETHER LIVING IN POMPANO BEACH, FLORIDA. I SPENT TWENTY YEARS IN THE ARMY AND RETIRED IN 1987. THE FOLLOWING INDIVIDUALS WERE WITH ME DURING THAT TIME THAT I CAN REMEMBER: THEY ARE, GEORGE MORIN (GEO), FROM SAN ANTONIO, TX , DAVID FARMER, DAVID SALDANA, FROM EAGLE PASS, TEXAS, JOHN LITTLE, CHICAGO, ALSO KNOW AS (JOHN JOHN); DOC PARRISH, DR SOLE, SGT STANLEY PATTERSON, CARL MALONE, EARL TOLES AND CHARLES MASON WHO WERE ALWAYS TOGETHER AND WAYNE MC DANIELS. THAT IS ABOUT ALL I CAN REMEMBER. I HAVE A LOT OF PHOTOGRAPHS AND MOVIES FROM THAT TIME PERIOD. I WENT TO E Co, 75TH RANGERS, IN TAN AN IN 1970 ALONG WITH, JOHN JOHN, MC DANIELS, MASON, MALONE, TOLES, AND SALDANA . MIMI AND OUR DAUGHTER MARIE, ALL RETUNED BACK TO THE US ON A MAC V FLIGHT IN APRIL 1971. I AM IN TOUCH WITH MORIN, FARMER, MC DANIELS AND MALONE, FOR ANYONE WHO WISHES TO GET A HOLD OF THEM. I WOULD SURE LIKE TO HEAR FROM ANYONE THAT KNEW US SO WE CAN SHARE PHOTOS AND STORIES ABOUT THAT TIME PERIOD. UNTIL THEN, WITH GOD'S BLESSING, YOUR COMRADE.
RENE RODRIGUEZ, CW2 RETIRED

Seroka, Stanley M. – Rach Kien, Bien Phouc – 7/69-9/70
501 N. Pennsylvania
Abingdon, Illinois 61410
(309) 462 5328


[email protected]


I started as a PFC like most ended a SGT. First job I got was RTO for SSGT Joe Graziano, then SSGT Hacker, then LT. J.O.B. Then assigned to HHC as RTO. Some people I remember are David Ortega, Willard Robertson(chief), Ted Rensing, SGT. Patterson, SGT. Pizzutillo, SGT. Norris walker, LT. Owens, SGT. Clifford, Dean Dick Hite and Tennessee. I also went to Plain of Reeds, Cambodia, (twice) once on acv's. Spent last month at Long Bien ammo depot pulling security as assistant platoon sgt. If any of you guys remember me feel free to drop me a line. I know its been a long time but all my adresses and photos were stolen in long bien.

Shipman, Mark A. – Rach Kien, Tan An – 4/69 – 4/70
40101 Dapple Grey Ct.
Tehachapi, CA 93561
661 823 7697 ( h )
661 496 0944 ( c )


[email protected]


I came to Recon in June/69 after 2 months on the river with the Mobile Riverines. I hated being with a Co size unit in the field and volunteered for Recon as soon as a slot opened. I walked point, carried an M79 w/vest for rounds but mostly carried a damn PRC-25. Oh well, couldn't have it all your way. I worked Bien Luc, Plain of Reeds, etc. Some of you may remember the time I killed that gook with a knife on the dike. Ah well, the stories we can and will tell. The date today is 09/25/07. I am in contact with SSGT Patterson, Thomas Mills and Sgt Dean. I would like to hear from everyone who has time. I'm thinking of taking a road trip to see everyone I can or perhaps we can meet somewhere. I know about the Battalion Reunion. But wouldn't it be great to have our own. Dammned near 39 yrs ago boys, I need some answers in order to find out a little more about that (boy turned man) I left in a stinking shit hole.

Skinner, Ray Rach Kien – Binh Phuoc – Cambodia ;- 1/70 – 3/71
PO Box 62
Avon NY 14414
585-469-2097


[email protected]



Smith, James – SP4 – Recon Platoon – 03/70-09/70
Recon

Stendrud, David W. – Rach Kien – 3/69-3/70
1194 East Starwood Drive
Sandy, Utah 84094
385-212-8338
[email protected]


I'm happy to have found this association.




Thompson, Richard S (Tennessee) – Mortar Platoon – Rach Kine – 09/68-07/69
4411 Martins Chapel Rd
Springfield, TN 37172
615-382-8872


[email protected]


I came into RVN Aug '68. Reported to 1st INF Div at Dian then to Lakie on Labor Day '68. Went through CIC School there. On Friday 13 Sept 68 traveled by C-130 to Vinn Long airstrip then to Dong Tam by River Craft. From Dong Tam to "Callai" to fire support base Moore on Hiway #4. On Friday 4 Oct 68 I lost 2 of my buddies from E Co, PFC Ronald Powers and Sgt Perves. I was wounded from short round fired by D Co 81mm mortar while they were firing at VC approaching Berm. Medi Vacked to 9th Div field hospital in Dong Tam and next morning woke up to find NVA Col in the next bed. He got his education at Harvard and could speak better English than I could. Blew my mind as to what a nice guy he appeared to be. I was a 19 year old Tennessee country boy and I could not really sort all this out and maybe couldn't today.
From fire support base Moore to Tan Help. We set up in AVRN Basic Training camp to provide 4.2 mortar cover due to VC Rpg's and mortars. From Tan Help to Rach Kine at Thanksgiving in temp bunker. From there to fire support base Diablo in the rocket belt. We returned in Jan of 69 to Rach Kein and build permanent bunkers for 4.2 PH and 4 gun sites.
Could tell hours on end of stories about fire base Diablo, some funny, some not and some that can't be told. Spent Easter at the north end of Ben Luc bridge with Kelly Harrington from McGee MS. who has now passed away.
From Rach Kine on 4 July 69 to Tan Ann 3rd Bdg Hdq to 9th Div Hdq at Dong Town to USS "Benwha" on 15 July 69. CH47 to Ben Hoa by C121 to Japan to McCord AFB WA to Fort Lewis back to Springfield TN 16 July 69. Sixteen July 69 has always been a special day in my life and what a privilege it is to note all of this to include the misspellings on this 14 July 2002 just a mer 33 years later.
A special thanks to Sgt.Gus Johnson of Surgonsville, TN for letting me know about his Web Site.
Only the men who were there will ever know what kind of life long friendships that we young boys forged out over there. Only God knows what guys like Gus Johnson, Steve Hamblin, Joe Gage and Mike Wright mean to me today and tomorrow.
Keep up the good work and if there is anything I can help with you can call, send an email or come to Tennessee and sit and jaw awhile.
Richard S. (Tenn) Thompson

Wagner, Jim, Sr. – Recon – Rach Kien – Binh Phuoc – 3/70 – 9/70
PO Box 507
Appling, GA 30802-0507
585-226-1310


[email protected]


Recon Platoon. Inherited point & demo bag from Ortega (he owes me!). Worked night ambushes, air assaults, Plain of Reeds, Firebase Jamie, Cambodia, Cu Chi. Transferred north to 101st Airborne after 3rd Brigade went home 9/70. Served there as 60 gunner, squad leader, and finally bartender (yes, some us got lucky). Am in contact with Ortega, have been in touch with Deane, am going to email Seroka (above). Would love to hear from all the guys – Stroble, Chief, Sherby, Hanson, Blunk, Ahrens, Abad, Doc Hunn, Doc Sweat. Will remember always – Ike, Tennessee.

Wallace, Mark S. – Recon – Rach Kien – Binh Phuoc – 6/69 – 6/70
3241 Fairlane Dr.
Des Moines, Iowa 50315
515-402-9339


[email protected]


Joined Recon in June 1969. I was new in country and the First Sargeant of Echo Company made volunteering sound so good. (Glad I did). Carried the M-79 for awhile (sweet weapon), then the CAR 15 (sweeter weapon). Worked with the PBRs out of Ben Luc – loved the midnight rations and HOT showers. Transfered to the Raider Platoon when it was formed. I remember Lt. JOB (John O. Benson), Lt. Owens, Lt. Fletcher, Ssgt Joe Graziano, Ssgt Stan Patterson, Rodriques, Farmer, Burnhart, Doc Paskal, Doc Hunn, Norris (saddlebum) Walker, Dan Pizzutillo, Tom Mills, Glen Blunk, Stan Seroka, David Ortega, Clifford Deane, Roger Taylor, and of course Charles (Tennessee) Hensley. Would probably remember more, but time and age clouds the mind. To all of those above, and to any I may have overlooked – Welcome home.

West, Haywood L. – Recon – Binh Phuoc – 3/70 – 8/70
5093 Ross Road
Lillington, NC 27546


[email protected]


Retired U.S. Army 1997; Rank: Colonel

Wills,Prince,K. – Rach Kien – 1969
011.52.322.222.8047


[email protected]


(Lynch died on dust off.)
Ambushed on dike, drew fire from the Cementary. I walked rear security that night, fired my 79 over everyone, got some.
( Patterson ) my 18th birthday, woke up at base camp, I got the Car-15! couldn't wait to use it. ( Didn't wait long).
( Cosack) Waked point after Lynch K.I.A'd, I walked slack. Somewhere in Mi to, we walked into a Hooch, 10 Gooks armed sitting at table. We both got'em all, 2 silver stars, one round set off a chicom, blow us out the door. Torched the hooch.
(Ried) Animal! Must have been deaf! Had more ears then he needed.
we are both watching another zippo'ed hooch going down. We catch movement on our left flank. Charile crawling on the inside of a small dike. We brought him down together. Fast work.
(Grassiano) My hero! Myto, bigest rice paddy I ever saw, Hooch in the middle. HQ squad sleeping in the hooch. We see charlie walking up, tired to raido for them to stay inside until we blew the bush. Fat chance! Everything happens at once. they walk out of the hooch as charlie begins to die. 14 or more of them, carrying lots of "RPG's" Same time I have two others pop the flares. Moments later, Grassiano appears on a small dike infront of me, and yells! " Give me one man!" My heart freezes, he's lookin at me! So, off we go, running down charlie on the right flank. Its the first time I kill charile as he's running from us. We killed three or four each that night. I'm in shock after the fire fight/ ambush. We drag our body counts back in. I look at him and said ( as we are dragging this gook, he's got one foot, I got the other) do you believe this shit? He stop's and yells at me," F you man, and do your job!" some thing "clicked", from then on I did.
(Bien Loc) New status for us. Call sign: Ranger One. River patrol boats. PBR's. One stupid night. we board up, on three boats, one squad each. I ride forward with my slack, ( vantassell) next to electric dual fifty's. We wait for the gook to shoot his tracer in the air from the bridge. ( that way we know which way we are going tonight)of course he didn't work for us. But his connections were a hell of a lot better then our'n. Sure enough, the tracer round goes south, we the brave, follow the shot. Nice night, all lite up form the moon. You could see everything, even us… Time goes by and then we swing to starboard for insertion. I go over board, in the water up to my ass in mud. Then the onboard raido goes off! " Squak! " Ranger one, Ranger one, over!" at that over part, I thought I was dead! I took a glup of air and went down to the bottom of the river. I could screaming and foot steps from the bottom of the hull. And just before I ran out of air, someone noticed I was gone. Shit, you ain't leaving me here all alone! I come up, and hands grab me pulling me on board. I'm aimming at the Nipa. ( ya, never know ).
Nightmare part 2. We head farther on down the river. Still a bright night, considering. Turning towards the same side of the bank for insertation. Cool, charlie will be traviling in a southernly d-i-e-r-e-c-t-i-o-n, we should be just where he wants us…now. Of course, I'm bad, we're all bad, just bad , bad, bad, and slightly stupid. F&%$! I'm told that no one is going to use the raido again. Okay, over the side I go. ( To this day I have a real adversion to river banks, no more frog gigging for this boy!) So, this time I go straight for the bottom. ( one thousand and one, one thousand and two, I'm the only Airborne daddy on this stick, which means " I can count", one thousand and three. An sure as shit the top of the water lights up with flood lights. It is now daytime under water… one thousand and four, lights go out, One thousand and five. I hear a fight going on above me! Time to check the main. My Car-15 comes out of the water before me… Same hands and smelly breaths, drag me on board again. ( Hell, I figure thats it. I mean so far this has been a circus.) But oh no, ours is not to reason why, our's is but to do and fry. Yep, we're going to do this again. And just to prove God is on our side, we going to insert on the same ole side again. I'm sure I said, " Hey, whats on the other side of the river, Lt? But a strange deafness seems to have befallen on the team. Okay… a little farther down the river, I go over the side, straight down, its deeper here. One thousand and one, etc. until I couldn't hold my breath. I moved away from the boat, ( never know ). And drugged my silly ass out of the water, crawling into the nipa. A few yards ahead was a dike. I crawled up and got sight of the boats down in the river, about 40 feet below me, out another 10 or so. I turned away from the boats. Out ahead around a Klick or so was a hamelt. It was way to brightly lite. My thought was f()='en charlie had an ammo dump out there. Time enough to tell. I scouted out to my left flank about 300 yards, and back out from where I started, another 3. Looked clear, couldn't feel anything weird. Even though my "weird device" took a beating from the Navy.
I got to a perch where my boat could see me, and signaled the men to insert. From time to time I'd check their progress. Of course, we were running out of dark. Everyone's ready, we are going to "look see", what charlie is doing. But first I really need to get "Blown up". "Boom!" this frag goes off right in front of me! and throws me on my back! , I was in a leaning front prone position! I get back to where I was and open fire! all of us opens fire! but there ain't no return fire! We stop firing. Then we hear yelling, not in front of us, oh no, its comming from behind us! I'm thinking there ain't no f'en way that could be! But it was, it was them, them big dummies on the PBR'S. As we looked in shear dis- belife the boats were swinging (3 boats) in our direction, more so then just inserting. We could see, that the forward gunners, ( with I might add, have mounted in a swinging deck turrent, "Duel electric fifty's" were being prepared to fire on our position! They were screaming.." Gooks, Gooks, and pointing at us…Oh yes, we were going to kill them first… But Lt. Newton, God bless his butter bars, Jumped up and started screaming!
Of course he was screaming ," No, No, its us." And we were screaming, Kill'em, Kill'em,. So, I want you all to remember this,
" BEFORE YOU EVER CLIMB ON BOARD AGAIN, CHECK OUT THE BOW OF THE BOAT!, YES! THE BOW, THESE GUY'S HAVE BEEN KNOW TO STRAP ON A " CLAYMORE MINE! they don't even know about the back blast! Oh Lordy, Lord.
So to the men I fought with, brothers, I'm alive and kicking!
it's taken 30years to find this site. So get off your sorry asses, and lets get together! You are still the best. We ate RPG's for breakfast, mistakes for lunch, and lots of joy juice for dinner!
" Dixon's Desperado's " Pointman.

Wren, Steven – Recon – Rach Kien – 8/69 – 2/70
412 Santa Clara Street
Fillmore, CA 93015
805-524-3778


[email protected]


Bn RTO for Raider Plt.