Charlie Company
Charlie Company Membership

= a link to a remembrance has been posted for one who served, either on the Wall or Memorial page.


= a link to a donation that was made in the name of one who served, either on the Wall or Memorial page.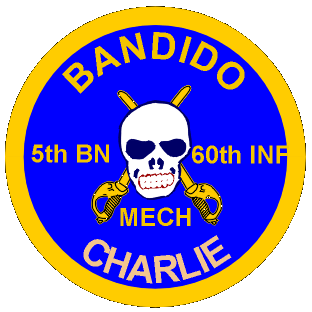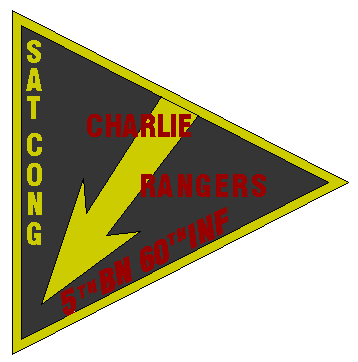 Charlie Company
---
   

 Adrian, Robert L. Jr.  – E5 – 1/69-1/70
    205 Road 20


    Cody, WY 82414




   

papagranny@tctwest.net




   

Served with Dennis Dinker, Jeff Sprenkel and Tom Tepper  naming just a few


 
Allen, Michael Warren  – Sgt.(E-5) – 09/68-12/68
Squad Leader 
 
Alley, Lee – Commanding Officer
 
Alms, Eddy R.  – E6 – 2nd Platoon – Binh Phouc – 06/67-5/68
460 CR 6610
Dayton, TX 77535
936-258-7248
ealms@houston.rr.com
2nd Squad, 2nd Platoon
 
Askeland, James P.  – Rach Kien – Binh Phuoc – 2/70 – 4/71
1610 Pinoak Pl.
Jonesboro, AR 72404
870-972-0810
askecpa@yahoo.com
 
Ayres, George B.  – E5 – 12/67-12/68
2618 McComas Rd.
White Hall, Maryland 21161
410-3296100
Dean@jcci.com
I was Sgt. E-5, Also went to the Big Red One, Was the mess sgt at the end.  Looking for anyone who served with me or played CARDS with me.
 
 
Baird, Jeffrey J.  – 2nd Platoon – Tan An – 5/70-8/70
54 Woodlawn Circle
Marshfield, Mass. 02050
781-319-9809
BAIRDJ234@AOL.COM
I arrived in country 5/70.  My unit was sent to cambodia (shakey's hill) right away.  After returning to Nam I was reassigned to the Americal Div.  I really can not remember to many names?  I hope this message will help me.
 
Barouski, Robert J.  – 3rd Platoon – Binh Phuoc – 9/68 – 10/68
1086 E. Gartner Road
Naperville, Il. 60540
630-885-1314
bbarouski@gmail.com
One of the last assigned to the 9th Infantry Division 5th /60th Mech before being reassigned to the 1st Infantry Division 1st / 16th. Took over from 1st LT. D. Long as XO after move North to Lia Khe.
 
Bausser, Bill  – 2LT – Artillery FO from 2/4th Arty – Binh Phuoc -01/4/68-02/20/68
1124 Arborhill Drive
Woodstock, Ga. 30189
770-924-8586
wilywilly@aol.com
Artillery FO. 2LT.  Only with them for a short while.  Ran convoys from Saigon to Dong Tam.  Was at Cholon and the race track during TET.  Got blown off a track near Cai Lay.  Spent most of the rest of my tour as the FO of B 3/39 in and around Rach Kien and then the last 3 months of 1968 as the FDO and XO of C 2/4 Artillery in Tan Tru.  Will never forget TET and the guys in Bandido Charlie although I have a difficult time in remembering anyone's name.
 
Beck, Thomas Ray – Binh Phuoc – 11/67 -10/68
43870 Barbara Trail
Aguanga CA 92536
310-381-9160
tombeck301@yahoo.com
 
Bentler, John L. (H o r n)  – 2nd Platoon – Rach Kein – 12/68 – 7/69
30 Butternut Court
Iowa City, IA 52246
319-338-2223
johnbentler@gmail.com
I carried the radio. My nickname was "Horn".
 
Bianco, James G.  – Charlie Co Medic
 
Birge, Doug (Doc) 1st Platoon Medic – 2nd Platoon Medic – Binh Phuoc – 1/68-10/68
BandidoDoc@aol.com
 
Bissenden, Thomas R. – 3rd Platoon – Rach Kein – 8/68-7/69
53437 Gearhart Rd.
Marcellus, Michigan 49067
269-506-8753
ekharker@aol.com
I have contacted Jerry Lemons, and Dennis Rognes. I would like to hear from anyone that served with the Charlie Rangers. The greatest!
 
Bobbett, Gary  – 4/67-4/68
Larry A. Garner
 
Born, Jack W. – 3rd Plt – Dong Tam – 9/68 – 12/68
7010 Orchard Ave
Parma, OH 44129
440-886-3544
vietnamvet1942@gmail.com
I was short upon arriving in country as I had only 7 months to serve. I was assigned to the 1/16th in Lai Khe and was transferred to 5/60th in Dong Tam. I was on the Loc Nihn operation before going to Dong Tam, and one of my childhood friends was an evac chopper pilot and was shot down and killed on that operation along with General Kieth Ware who was commanding that operation…small world. I also knew Capt. Warren Goss and went on several missions with him. I really liked him and felt a great loss when he was killed just before I left country. I also soldiered with fellow grunts Riggins, Holzheimer, Rasa and Bowles, all of whom are now deceased. I miss them all and wish they could have lived to join in on our reunions. May God keep them all in His arms.
 
Bowen, William D.  – 2nd Platoon – Rach Kien – Binh Phuoc – 12/69 – 10/70
2531 SW 114th
Seattle, WA. 98146
206-433-8859
wbowen2006@comcast.net
 
Bowen, James D. – Hq Platoon – Lai Ke (1st/16th) then Rach Kein 5/68 – 5/69
12399 State Hwy 198
Conneautville, PA 16406
814-587-3364
jdbowen@alltel.net
Was radio operator for Co Commander or "Commo Chief" for most of my tour. We had several COs seriously wounded or killed during my year in Vietnam.
 
Breidenbach, Peter H. – Charlie Co. / HDQRTRS Co. – Dong Tam / Rach Kien – 9/68 to 6/69
Memories now thirty-six plus years (and growing) of all of us working hard to keep each other alive. I have positive memories despite the Hell we found ourselves in. I carried radio for Captain Goss and remember many talks with him at all hours in all sorts of situations. His beliefs, his total understanding of the big picture and the immediate picture, his appreciation for every man he commanded, the value and respect he placed on human life, (no matter the uniform) plus a dedicated belief that he could make a difference in and for the Army for the years to come was astounding. His love and caring for Charlie Company put him in the wrong place at the wrong time on 6 Dec 1968. His replacement meant well but did not have a clue how to lead or command and Warren Judge Goss, now a Major took one more mission to safeguard the company and was taken from us by a sniper. In the Summer of 1968 when we were still part of the Big Red One, Gen. Keith Ware used to fly in wherever
Goss was and have private in the field talks. The boys in higher command knew of his capacities through Ware (and others). He would have made great contributions to the Army and our nation beyond those he made with us. God Bless Him.
 
Broyles, Danny C. – 3rd Platoon – Binh Phuoc 4/68 – 2/69
18728 Dawn Road
Newalla, OK 74857-8889
405-386-2044
I started with the 9th, 5th/60th Bandido Charlie, 3rd Plt, then after 5 or 6 months I moved to the 1st/16th, 1st ID. We ended up in the Iron Triangle and built a firebase outside of Ben Cat. It was called firebase Hertcan and was about a mile from the Mekong river.
 
Buckhout, James K.  – Rach Kien – 9/68 – 8/69
8180 N. 37th St.
Richland, MI 49083
269-629-9661
justearnit3@aol.com
 
Burt, Harold L.  -E6 –  3rd Platoon – Rach Kien – 8/68 to 7/69
Hugh E. Best David R. Rasa
Deceased 7/15/14
E-6, Platoon Sgt for Third Platoon, Charlie Co.
 
Buswell, Robert L.  – LT – 1st Platoon – 01/70-06/70
Albaro Q. Garcia
1st Platoon Leader
 
Califello, Richard J. – E5 – 1st Platoon – Rach Kien – 8/68-7/69
11612 Belmont Place
Cedar Lakes, IN 46303
219-365-4932
I came down from the 1st/16th 1st ID.
 
Celis, Alberto, D. – Dong Tam – My Tho – 1967-1968
219 Avenida Marguarita.
Oceanside, CA 92057
760-637-2327
chompiras17@gmail.com
To all who survived Hello! To those who did not you will never be forgotten
 
Chaffin, Edward, J. – E5 – 1st Platoon – Binh Phuoc – 05/68-09/68
11618 80th Ave N.
Seminole, FL 33772
727-397-0842
crutch1946@juno.com
1st platoon/ squad leader/Sgt E-5   TET offense/wounded in right knee.
 
Chaffin, Wendel T. (Toby)  – LT – 2nd Platoon – 4/70-8/70
Walter L. Redding
Platoon Leader
tchaffin_pbg@bellsouth.net
5th Battalion Association Vice-President
 
Chance, George R. – 4th Platoon – Rach Kien – 7/69 – 4/70
646 Northland Drive
Hanover PA 17331
717-521-3937
gchance@comcast.net
I also served with Delta Co 3/47, 05/69 – 07/69.
 
Chierchio, Joseph (The Bull) – Dong Tam – Rach Kien – 10/68 – 3/69
116 Cherry Lane
Medford, NY 11763
631-654-2035
papajoe3168@optonline.net
I was assigned to Co. C 1/16 Inf, 1st Inf Div in March 1968.  I remember that move in Sept 1968.  I was assigned to the Mess Hall Jan 69.  I left Vietnam March, 69 and was discharged March 69 from Fort Dix, N.J.  I was originally from Brooklyn, N.Y.  I do not have a computer, but please send me more information about 5/60 Co. C. 9th Div.  Co C was assigned from a small town outside Saigon.  I went from Dong Tam, to Rach Kien, then to Fort Dix N.J.  Then I went back to Brooklyn, N.Y.  I wish to attend the next reunion.
 
Clouse, Larry M. – LT – 3rd Platoon – Rach Kein – 04/69-04/70
2213 Fallen Oaks Drive
Knoxville, Tennessee 37932
865-691-7096
lalo1720@aol.com
Third Platoon Leader. Captain Dave Mackey was my first CO. He was KIA in a Copter crash. Sgt. Sullivan was platoon sergeant. Sulley was wounded by friendly fire in the leg. I served as the Assistant S3 and the S5 when promoted to Captain. Sgt.McEnally, Sgt.Richard Stennico, Doc Johnson, Sgt.Ray Birchfield. All served in the Third Platoon with me. Would love to hear from anyone from Charlie Company who was in country in 1969.
 
 Copeland, Tommy G. – BearCat, DongTam, Tan An, Binh Phouc – 05/66 – 12/67
1521 Rice Rd # L-103
Tyler, TX 75703-3222
903-939-0801
tomcopeland@sbcglobal.net
First Charlie Company Commanding Officer, S-4, S-5
Great to have found 5th/60th INF again, The Best Then, The Best Now
 
Cordle, Timothy, D. – 2nd Platoon – Rach Kein and Binh Phuoc – 09/69-09/70
12070 Greenbower Ave.
Pickerington, OH 43147
614-861-1740
CordleTi@columbus.gov
Home email Cordti@aol.com.  Would like to hear from old comrades.
 
Coro, Don Terry – SFC – Retired 1st Sgt – Binh Phuoc – 11/67 – 5/68
6212 Pino Real Drive
El Paso, TX 79912
915-526-2472
coromd@peoplepc.com
great fighting men… welcome home brothers… hold your head high and stand tall… there are none better BANDIDO CHARLEY 5TH 60TH INF
 
Cowles, Lenny E. – Mortar Platoon – Rach Kein – 01/69-01/70
4272 Birchwood Ave
Seal Beach, Ca 90740
562-431-8732
lcowles@gmail.com
Looking to hear from Randy, Chet, or George Chance from Mortar Platoon. Would love to hear from anyone from 1969 that remembers Charlie Co.'s basketball court or the EM club that Hank built
 
Daniel, Albert – 1st Platoon – Rach Kien – 7/69 – 3/70
1413 N. Bibb Avenue
Eagle Pass, TX 78852
830-352-3543
tungo27999@hotmail.com
I'm HOME
 
Davis, Benjamin H. – 4th Platoon – Binh Phuoc/Rach Kien – 05/68-05/69
7796 Teal Glen Cr.,
Mooringsport, LA 71060
318-518-3105
Bdavis@cmaaccess.com
Bandido For life
 
Davis, Dan L. – 1st Platoon – Rach Kien – 07/69-01/70
116 Oak Creek Circle
Branson West, MO 65737
417-338-9990
davis.dan22@yahoo.com
Platoon Leader 1st Platoon from 07/69 to 11/69 then transferred to HHC. Captain Roberts was Charlie Company Commander
 
Davis, Jackson D.  – 12/66-9/68
Larry A. Garner
710 Pebble Creek
Mesquite, Texas 75149
972-285-2241
delaneyd@aol.com
Served under Lt.Garner.  Buddies I had – Delbert Webb; Walter Cline Dong Tam on Coleten Navy ship when with Navy on mekon river patrol.  Was hit in sept.1967.  Bandidos!!
 
Denker, Dennis Paul – E5 – Rach Kein – 09/68 – 03/69
4557 NE Park Ridge Ave
Lee's Summit, Missouri 64064
816-809-4316
ddenker519@gmail.com
In Country June 1968, Charlie Company, 3rd Platoon, 1st Squad.  September 1968 unit moved to 5/60, 9th Division.  Pointman until became squad leader, Sgt E-5, for 1st squad.
 
Depko, John  – 1LT – 1st Platoon – Rach Kien – 11/68 – 07/69
Dennis M. Keith Rodney D. Wise – my two radio operators who were KIA on 6 Feb 69 in a night ambush near the Binh Phuoc bridge.
259 E. Bay Street
Costa Mesa, California 92627
714 896-7249
johndepko@hotmail.com
I was a First Leiutenant, 1st Platoon Leader of Charlie Company in 1969.  Call sign: Riot Charlie Five-Six… Sea of Reeds, Parrot's Beak, Go Cong, Tan Tru, Tan An, wounded near Binh Phuoc's blown-up bridge on 2/6/69… Looking for any Charlie grunts, my squad leaders, other platoon leaders, medics, and especially "Cowboy" Sgt McLean who probably saved all our lives that night at the bridge ambush.
 
DeSpain, Sam – 9/69-9/70
504 N. Lincoln
Elk City, OK 73644
580-225-3386
steelrock@cable1.net
 
Desper, Rich – 3rd Platoon – Rach Kien – 9/68 – 7/69
2500 Marlee Drive
Turlock, CA 95380
209-634-7360
richarddesper4@gmail.com
Came down from the 1st/16th, 1st ID. Served as a squad Sgt with Lt Bob Cooper.
 
DiStefano, Ronald (Babysohn) – 4th Platoon – Binh Phuoc – Lai Kai – 04/68 – 04/69
161 Kennedy Blvd
Bellmawr, NJ 08031
856-931-9449
distefam@comcast.net
Proud to be a Bandido Charlie!
 
 Doherty, William  – LT – Commanding Officer – 3rd Platoon – Binh Phouc – 9/67 – 3/68
for all the men who operated out of Binh Phuoc
airbilly@hawaii.rr.com
1Lt Doherty
Platoon Leader – 3rd Platoon
Served with 2LT Tommy Franks, who was our artillery FO (General Franks was Commander-in-Chief of  the US Central Command and was responsible for the prosecution of the war against the terrorists).
5th Battalion Association Charlie Company Representative
 
Dooms, Harry – 1st Platoon – Rach Kien – 3/69-3/70
harry.dooms@gmail.com
 
Dudley Lawrence H. – 3rd Platoon – Rach Kien – 4/69 – 2/70
2210 S 7th Avenue
Sequim, WA 98382-9792
360 797-1093
dudley.larryandcarolyn@gmail.com
Came from Bravo Co., 4th/47th, Mobile Riverine Force
 
Egelston Gary L. – 3rd Platoon – Rach Kien – 10/68 – 8/69
451 Frank Hurt Road
Frenchburg, Ky 40322
606-768-3230
gegelston@menifeefire.com
 It was a pleasure to serve with you all
 
Egli Walter N. – 1st Platoon – Rach Kien – 8/68 – 2/69
7281 Parklane Drive
Algonac, MI 48001
810-794-2397
wegli@comcast.net
 Assigned August 1968 Charlie Company 1st/16th, 1st Infantry Division which became 5th/60th, 9th Infantry Division. Lai Ke to Dong Tam than Rach Kein. Wounded in night ambush near the Binh Phuoc bridge 2/6/69 in command post where Dennis Keith and Rodney Wise were lost (God Bless). After field hospital visit was confined to base camp. Wounded once more by incoming mortar round on 2/14/69. Spent remainder of tour in hospital, Okinawa. Separated from active duty Oakland, Ca. 4/16/69.
 
Eickendorf, John – 2nd Plt. – 9/68
5569 HWY 66
Stevens Point, WI 54482
715-344-5054
I came down from the 1st/16th as a short-timer.
 
Elliott,Thomas F. – Rach Kien – 9/69 – 11/69
12 Dennis Road
Bloombury, NJ 08804
908-995-2066
Tomfelliott31@gmail.com
Anyone who remembers me, please feel free to contact me.
 
Engelhardt,Larry R. – Bearcat – Binh Phuoc – 12/66 – 12/67
4803 West Gage
Boise, ID 83706
208-870-9549
ldeangelo09@gmail.com
Company C 5/60 June '66 'till April '67, then headquarters 5/60 'till Nov. '67. Executive Officer, Platoon Leader, 1st Platoon, S3, Air Liaison. Hello out there – please contact me at my email address above. I'm Curious to see who is still around. Have most of the history of the initial Bandidos.
 
Ensminger, Dennis – E5 – 1st Platoon – Rach Kein & Binh Phuoc – 11/69 – 8/70
Albaro Q. Garcia


dinkydau70@live.com


I was a combat infantry squad leader, Sgt.E-5, for 1st Platoon, Charlie Co., 3rd Brigade, 5th/60th, 9th Infantry Div. from 11/69 to 8/70. Main duties involved night ambushes, Eagle Flights (daylight chopper insertions) approx. every 13 days, and medcaps (providing security for a doctor & dentist in countryside villages. Sure would like to find guys in my squad but can only remember first or last names.
 
Essary, Norman G. – 1st Plt – Rach Kien – 3/69 – 4/70


142 Carel Road




Jefferson City, MO 65109




573-893-3120


essaryjc@aol.com
 
Fort, Harvey L. – Dong Tam – 12/66 – 11/67


187 Clement Ferry Road




Huger, SC 29450




843-336-3700


hlfort@homesc.com


I am looking for contact with anyone that served under Lt. Garner or Sgt. Santos during my time in Vietnam. If anyone remembers anything from C-Company during my time there please contact me as I am looking forward to speaking with someone that I served with. Names that I remember are as follows; Jerry Bacon, Larry Dunnaway, Russell Mackey, SSgt. Santos, Hernandez, Robert Perkins, Wise. Again, I look forward to connecting with anyone from that time.




 

Garness, Steve – Rach Kien – 6/68 – 6/69
1121 W. Oliver Street
Spearfish, SD 57783
605-559-0247
aztec@knology.net
I was with the 1/16th inf. 1st inf.div. then moved to the 9th, I think in sept of 68…..welcome home guys!!!
 
Garver, Ronald P. – Binh Phuoc – 11/67 – 10/68
634 Chippewa Drive
Defiance OH 43412
419-785-4498
William G. Behan Richard J. Flores
Edmund B. Scarborough Randolph R. Wilkins
ron_garver1@yahoo.com
I was in B Company for TET, C Company for Mini TET, then HHQ Co.  Looking for information as to the whereabouts of my RTO Jim Lundberg and Clemmer who served with me in C Co.
 
Gault, Dawin (Buddy) – E6 – 3rd Platoon – Bien Phuoc – 03/68-03/69
Richard J. Flores
buddygault@gmail.com
I came in country as a shake and bake E-5 as squad leader with C company 5thBn/60th Inf.  I was on the Y bridge at the start of the Mini-Tet offensive.  I made the move with the Bandidos to the Big Red One.  As an example of how things were in Vietnam at that time I was promoted to E-6 and made acting Platoon leader of the third Platoon with the call sign of Charlie 3/6.  By then the First Div. had had enough of us old Bandidos and had given the orders to not wear our patches and we were called Iron Guard Charlie.  I still have my Bandido Patch.  I'm sorry to say I have large blank places where I should have memories of who I served with and things that we did.  I still think of myself as a Bandido and thank God everyday that I was with that group of brave and crazy men.  I would not want to do it again but I would not take anything for it.
 
Gayhart, Homer L. Jr. "Butch" – Binh Phuoc – 04/67-04/68
15820 S.145th East Ave.
Bixby OK 74008-7103
home 405-213-4616
butch1061@gmail.com
I went to Doug Tam first.  As soon as I was assigned we went out to help the inf. in the field.  My first firefight I was hit in the butt by shrapnel from our jets.  I was dusted off to Dong Tam with 1 kia and 3 wia.  Taped up and sent back out in the field.  I was at Binh Phuoc, TET.  A lot of other places I cannot remember.  I served with LT Garner.  Don't remember a lot of names.  I was there 4/67 4/68.  I am going to the reunion.  See you there.
 
George James W. – Rach Kien – 6/68 – 6/69
15994 County Road 315
Lindale, TX 75771
903-593-2824
Charlie Company 1st Sgt.
 
Gibson, Darrel J. – 2nd Platoon R.T.O. – Rach Kein – 09/68 – 06/69
3337 Reno Rd.
Ottawa KS 66067
913-832-7478
darrelgibson@msn.com
I came down from Lai Khe, with the 1/16th, 1st Inf. Div., in Sept., 1968, when our battalion was transferred to Dong Tam and the 9th Div.  We took C-130's first, then later river boats to arrive at Dong Tam.  The 9th Division Band greeted us at the dock, as we stepped ashore.  I was an SP4, and I served as the RTO, for Lt. Rude, and Sgt. Johnson (2nd Platoon), before moving to the Charlie Company CP group, where I carried the radio for the company commander.  We went through a number of CO's during my time in the field.  Cpt. Goss, Lt. Vickers, Cpt. Roberts, Cpt. Gober, and finally Cpt. Mackey, all served as my boss during that time.  I recall the "doughnuts" we threw in the water logged rice paddies near the river in Oct. 1968, attempting to seal off a VC battalion.  At least two nights were spent in waist deep leech infested waters, holding our positions.  Many operations with the 2/47th at Bien Phouc, pulling security duty at the Ben Luc Bridge, the villages surrounding Rach Kein, and New Year's eve, 1968, on a last minute ambush south of Rach Kein, come to mind.  I'd give anything to ride in a Huey again with my buddies!  Any 2nd Platooners, or HQ platoon vets., please send me an e-mail.
 
Gober, Hershel W. – Rach Kien – 2/69 – 3/69
goberh@aol.com
Served as Charlie Company Commander. Wounded and medievacked 3/69. Retired from Army 1978. Confirmed by US Senate to serve as Deputy Secretary US Dept of Vet Affairs 2/1993 – 1/2001
 
Golden, Richard Wayne – Dong Tam – 9/68 – 10/68
46 Cutler Lake Road
Ontario, Canada POP1PO
705-865-1597
rwgnamvet@gmail.com
Royal Canadian navy 1958 to 1963 troop ship to quin hon vietnam us army 156 hem co 1/16 inf big red one hq and charlie co. transfer to the 9th Inf div 5th 60th deros home from dong tam 3 weeks later Oct 21st 1968.
 
Goodwin,  Millard   Rhea – Binh Phouc – 3/68-3/69
1125  Mcnichol Lane
Chattanooga, Tn. 37421
(423)855-5304
MRG11848@aol.com
 
Goree, James W. Jr.- Binh Phuoc – 10/67 – 12/67
617 Karns Avenue
La Peunte, CA 91746-1822
626-961-7600
nicole19
I am so glad I found this web-site. I would appreciate it very much if I could get more information on Charlie Co in Binh Phuoc.
 
Gould, Allen -Rach Kien – 1968 – 1969
24124 Commercial Street
Plainville IL 60544
davidkizorek@yahoo.com
My father in law served 68-69 Charlie Bandido 2nd platoon, 5th battalion, 6th Infantry, 9th Division Mechanized. He was awarded two purple hearts. I am looking to help him rebuild his past, so if anyone knew him or can send me any information, please send it to me and I will relay to him. Thank you..
 
Guillen, Roy  – 1st Platoon Track 1-2 Driver – Bearcat – 12/66 – 08/67
1810 Kendalia
San Antonio, Texas 78224
210-927-5992
soldado1836@yahoo.com
I was the driver for track 12.  Was a friend of Russell Reust, Joe Shorter, John McPartlend, Darrel Shank, Boris Bentley, among others.  Fought at Ap Bac May 2nd, 1967 and was there during the two days of fighting (July 29-30th) when Lt. Garner was killed.  I remember that some of us had nicknamed him the Red Baron, because of his red handkerchief, before the name Bandidos came along.
 
Gulliver, Albert C. Jr. – 2nd Platoon – Rach Kien – 01/69-08/69
157 Valley View Rd..
Georgetown, Tx. 78633
512-863-3930
agulliv@yahoo.com
I was in Rach Kien from Jan to April '69 in the second platoon, mostly as point. I don't remember but a few names (a 20 year drunk does that). I do remember Sampson, Gibson (charlie 6 oscar), Bowles, Cowboy and Lt. Depko. Would love to hear from anyone.
 
Guillorn, Albert  – Rach Kien – 12/68 – 12/69
100 Fair Street
Bristol, CT 06010
860-584-8336
alguilrn@att.net
I was known as "Riverboat" I served with Charlie Co. 2nd Platton until Sepetmeber of 1969, then I served in Tan An in the Medical Battalion there until December of 1969.
 
Hardeman, Timothy L.  – 2nd Platoon – Dong Tam – Binh Phuoc – 7/67 – 7/68
87 Ridge Place
Bryson City, NC 28713
828-488-2097
timothyhardeman@yahoo.com
I was with C/5/60 from 7/67 – 11/67 when we were attached to the third bn. and lived on the USS Colleton between missions. I was an M60 gunner at that time. From 11/67 to 7/68 when I DEROSED we were at Binh Phuoc. I remember Kincaid and Lekse from the names I read.
 
Harrier, Jim  – 2/68-10/68
harrier_89@yahoo.com
 
Harris, Hassell (Junnie)  – Rach Kien – Binh Phuoc – 12/69-12/70
2390 Lighthouse Lane
Greenville, NC 27858
252-355-7697
harrisj@ecu.edu
 
Haug, James A. (Tony)  – Binh Phuoc – 3rd Platoon – 12/66-12/67
604 48th Street CT W
Palmetto, FL 34220
941-722-2349
 
Hartshorn, Bill  – 3rd Platoon – Bearcat – Dong Tam – 11/66 – 6/67
49 St Francis Street
Ansonia, CT 06401
203-734-4823
Original advanced party. Was in the Bearcat and Dong Tam area of operation. Looking to connect with my buddies.
 
Hellige,  Frank   Rhea – Binh Phuoc – 11/66 – 12/67
14 North 12th Street
Breese, IL. 62230
618-526-4045
fmap@sbcglobal.net
 
Herbert, James C. – Rach Kien – 12/69 to 2/70
1035 McDonough Rd.
Jackson, Georgia 30233
770-504-8444
jcherb@charter.net
 
Hester, Kendall – Rach Kien – 8/68 – 1/69
15344 181st Avenue NE
Woodinville, WA 98072-9375
425-788-9701
simeonehester5@msn.com
Thanks to Darrel Gibson, I found you guys. I remember lots of friends, but I have forgot many names and faces – it's been a long time. I was up in the 1st infantry division, where we would go out in dense jungle for days / weeks. Then we transferred to the 9th where we mostly helicopter'ed in and assaulted wood lines.
 
Hill, Bob – 2nd Platoon – Rach Kien – 4/68-2/69
509 Center Road
Oregon, WI 53575
608-220-0444
bhill@hughes.net
Originally was with the Big Red One 1/16, up North somewhere until we were transferred to the 9th down in the Delta. Was a Sergeant squad leader until Febreuary of 1969 when we were ambushed and I was wounded — 2nd Purple Heart– Hospitalized and returned home to see all the Jane Fonda protesters. Welcome home to all you grunts !!
Life is GOOD.
 

Hinkson, Daryl A. – Bearcat, Dong Tam – 11/66 to 11/67




19 Hickory Hill Drive




Chester, CT 06412




860-614-3842




darylhinkson@gmail.com




 

Hodgden, Larry D. – 3rd Platoon – Rach Kien – 5/69 – 8/69
2800 N. Cleveland
Enid, OK 73703
580-541-4359
vivih@suddenlink.net
What a web site. I've been in touch with Jim Mintz over the years. Even went snow skiing with him in Feb. 2008. Last time I was in touch with anyone else was Aug. 6th 1969 when Charlie Company left base camp at about 4 PM. I was walking point (had only been point for about one week). We walked through Rach Kein and about one mile further south. Then we went less than a quarter mile west on a larger dike were I tripped a hand grenade booby trap. I think Charlie Morris was right behind me. He had been a long time point for 3rd Platoon. I remember Jim Mintz, Doc, and a third person working on me. Thanks Guys!!! Had two major operations…spent five months in hospitals. (Easy Duty!!!)
I made a full recovery. I'm grateful to still be alive at age sixty.
Would love to hear from anyone who served with me.


 

Hohman, John Howard – 4th Platoon – Binh Phouc – 12/67 – 12/68
Charles A. Stovall
Post Office Box 71
Milton, Delaware 19968
(302) 684-8683
hohmanj@amtrak.com
4th platoon, TET etc.
 
Hollowbush, Rodney  – 1st Platoon – Rach Kien – 5/69 – 4/70
136 Flewellyn Road
Harrison Valley, PA
484-575-8732
rhollowbush@yahoo.com
 
Huston, Steve  – SGT – 1st Platoon – Rach Kien – 8/69-5/70
stvhust@yahoo.com
Sgt.  1st Platoon.  I would like to get some info on Criss.
 
Jackson,  Wilmer E. – 2nd Plt – Rach Kien – 10/68 – 4/69
2218 Mid Lake Drive
Union, NE 68455
402-263-4155
wilmer.e.jackson@hotmail.com
 
Jahn, Chester R. – 2nd Platoon – Binh Phuoc – 1/68-10/68
19775 Fir Grove Rd.
Monmouth Oregon 97361
503 838-1262
crjahn@direcway.com
 
James, Robert  – 4th Platoon – 2/67-2/68
rj4557@aol.com
I was in the Mortar platoon, I also doubled as the company bugler under Company Comander Lt. Gardner.
 
Jewell, Tex William Jr.  – 1st Platoon –  Rach Kien – 10/68 – 10/69
1334 Bates Drive
Colorado Springs, CO 80909
918-781-9398
texjewell@q.com
Although my memory has failed me more often than I care to admit I do remember a lot of those I served with. I remember well the day that "Duck" got into the booby trap, heard him yell, it scared the hell out of me. I ran over to him fearing the worst, but he was alive. Also remember going to see him in the hospital, him showing us the bag with his guts hanging out(a sight I'll never for get). Remember "Tiny" (RIP buddy) going into the wood line getting into another bobby trap — I can still see the smoke & dust. I am so glad I came across Lt Alley's book, other wise I would have not found this web site where I have seen many names of those brave souls that Kicked Ass in the Bush. Love you guys and Welcome Home!!!
 
Johnson, John R. – 3rd Platoon –  Dong Tam – 7/66 – 11/67
2113 Bryce Drive
Lake Havasu City AZ 86406
620-224-9546
cherriejohnson@msn.com
My call sign was 33DELTA
 
Johnston, Jon E. W.  – SSG – 1st Platoon –  Rach Kien – 7/69 – 5/70
130 Poole Pl
Oldsmar, FL. 34677
727-781-8191
emone_51@yahoo.com
Was Platoon SGT. with 1st and 2nd Platoons, awarded the SS, BS, PH, ARCOM, AM and of course the CIB. Hope to hear from anyone  ,anytime , and maybe get together.  Hope all are doing well.
 
Jones, Craig L.  – 4th Platoon –  Binh Phuoc – Tan An – Lai Khe – 11/67 – 11/68
2290 Emerald Road
Boulder CO 80304
303-748-9554
stormrock002@yahoo.com
Los bandidos es muy mala.
 
Jones, Donald L. Sr.  – Hq Platoon  – Dong Tam – 1/67-4/68
506 East Cormick Ave.
Centralia, Illinois 62801-2626
618-533-2529 cell 618-780-4097
Looking for guys who served with me


 

Jones, Lanny  – 1st Platoon Track 1-1 Driver – Binh Phuoc – 3/68-3/69
814 Pitchfork Alley
Jefferson City  Mo 65109
573-584-2069
1st Squad, 1st Platoon Lead Track Driver (Track 1-1)
 
Jordan, James J. – 1st Platoon – Rach Kein – 3/69 – 9/69
717 Mooreland Cir.
Portage WI 53901
608-742-7242
jjjpostman@charter.net
I was called the "old man" or Pops
 
Jorgensen, James L. – Rach Kien – 06/69-03/70
USTRESAGT@aol.com
Transferred from 4/47th (Mobile Riverines) when 9th Division was disbanded. Assigned to 3rd Platoon. Became platoon RTO.  Became company RTO when Capt. James Roberts was CO.  Became Sgt. E5 and continued to go to the field attached to the company HQ group as a sort of "Jack of all trades."  Am still in touch with 5/60th troopers Gary Kuehne (Wisconsin) and FO Lt. Jim Waldo (Oklahoma).  Anyone know where Barry Locke is (formerly New Jersey)?  He got a silver star for wrestling some gook to the ground one night during an ambush.
 
Keck, Walter L. – Bearcat – 11/66-11/67
6246 Alder Street
Bonners Ferry, ID 83805
wallykeck@yahoo.com
Time passes quickly and its been 44 years since those days in the Delta. You try and think you have put them behind you but they are always there. I am proud to have been a part of the 5/60th Infantry.
 
Keegan, John G. (Jack). – Dong Tam – 4/69 – 4/70
329 Minorca Avenue
St Augustine FL 32080
904-814-2950
waverider329@bellsouth.net
 
Kennedy, Thomas A. – Rach Kien, Bien Phouc – 69-70
6601 N. Greenview
Chicago, IL 60626
773-381-1955
thomasakennedy@yahoo.com
I am interested in a reunion and returning to Vietnam for a visit.
 
Kincaid, Kenneth K. – Binh Phuoc – 07/67-0768
1534 Softshell St.
St. Cloud, FL 34771
410-274-9606
cbandido22@yahoo.com 
Kuehne, Gary G. – Rach Kien – 6/69 – 4/70
2117 Lima Center Road
Whitewater, WI 53190
608-921-6967
peachkuehne@yahoo.com
 
Kuisle, Edward P. – 2nd Platoon – Rach Kien- 6/69 – 6/70
5959 County Road 8 SW
Rochester, MN 55902
507-289-2215
epkuisle@msn.com
My schedule doesn't allow me to make St. Louis.
Work email: kuisle.ed@co.olmsted.mn.us
 
Landgraff, Earl G. – Bearcat, Dong Tam – 1966-1967
1331 Noah Ave.
Spring Hill, Florida 34608
352-428-5254

Bandido Charlie 1966, Bandido Charlie for LIFE, Original Bandido Charlie. I hit a landmine in June of 67.  I don't remember much after that, believe I walked around with a concussion. I would love to hear from anyone that might remember me. Very few names I remember. LT Garner and Hugh Norwood and all the others, you are my heroes YOU Never leave my mind …. To all others Welcome Home.
 

Langelan, Raymond F. – 2nd Platoon – Rach Kien- 7/69 – 4/70
rflangelan@aol.com
Arrived in country 04/13/69 and was assigned to Co. D, 3/60th Mobile Riverine. Transferred to Co C, 5/60th in 07/69 when 3/60th was sent home..
 
Lawson, Robert – 1st Plt – 6/68 – 6/69
20 Lees Farm Commons Drive
North Providence, RI 02904
401-353-3366
 
Lee, James R. – Binh Phuoc- 7/67 – 3/68                           
PO Box 470
Wellsburg, WV 26070
304-737-3163
jameslee681946@gmail.com
Looking for friends from Charlie Co and Alpha Co.
 
Lehman, Charles R. – Dong Tam – 3/67 – 3/68
1337 Killian Road
Akron, OH 44312
330-645-9308
cll1037@yahoo.com
 
Lekse, Alan L. – SP/4 – 2nd Platoon – Binh Phuoc – 9/6/67-4/5/68
1941 Nicolette Ct.
Martinez, CA. 94553
925-228-3703
ALekse3336@aol.com
2nd Platoon sp4 Binh Phuoc, Cai Lay, Plain of Reeds, Hwy 1 Tom Rushing,Eddy Alms,Greg Tuthill,Webb from Alabama,Thigpen from N.Y.,After my 2nd purple heart transfered to Long Binh last couple of months.
 
Lemons, Jerry (Henry) – 3rd Platoon – Rach Kien – 10/68 – 9/69
1033 Shaw Road
Adairsville GA 30103
I have been in contact with Tom Bissenden and Dennis Rognes. I would like to hear from Dave Sullivan, Melvin Gallagher and anyone else I served with. God bless the brave men we lost in Charlie Co. especially Jay Rumsey, James Riggins, Doc Bowles, Dennis Holzheimer, James Luckey, Roger Vickers, Samuel Williams and Warren Goss.
 
Lingley, Jim, A. – E5 – 2nd Platoon – Supply  – Rach Kien – 07/69-06/70
jali5@aol.com
Transferred from 4/47th Mobile Riverines and sent to Charlie Co 2nd platoon at Rach Kien.  Was Fire team leader, asst. squad leader, became Sgt. E-5, squad leader, and in 02/70 became Company C Supply Sgt.
 
Linnen, James Michael – 1st Platoon – Rach Kien – 2/69 – 11/69
10444 Woodland Sq NE
Bolivar, OH 44612
330-874-8211
jlinnen@gmail.com
I have pics and home movies, thought about sharing some of them with those interested. There are many Charley Rangers I would like to see or talk with again. Updated e-mail address on 3/27/10. Help! I would like any, again any information on C-1st Plt medic "Doc Jones" Spec 4, medivac'd in @ Aug-Sept '69 from vc-personel mine in Plain of Reeds. That is all the info I have. Would like to hear from everyone any time.
 
Liskey, Rocky  – 1st Platoon – Binh Phuoc – 5/68-6/68
1st Platoon
 
Litherland, Robert F.  "Duck" – 1st Platoon – Rach Kien – 1/69-8/69
317 686 4140
blitherland@marianinc.com
I was known as "Duck", was in 1st Platoon, 1st Squad, Charliie Co.  Was a grunt and fought with Sargent K, Rivers, Cowboy, Dog, Pollock, Tiny, Trigger, Hillbilly, Pops, Doc Bennet, Pretty Boy Langston and some other equally unsavory gentlemen that I still love and miss.  I got hit July 10, 69 in the Plain of Reeds and didn't really get a chance to say good bye, so if any of the guys read this there's beer and dinner on me in your town.
 
Lloyd, Evan "Twiggy" – 4th Platoon – Binh Phouc – 4/68  4/69
P.O. Box 186
Port Salerno, FL 34992
evnlyd@netscape.net
I arrived in March 68 and was in mortar platoon.
 
Lock, Barry C. – 3rd Platoon – Rach Kien – 5/69-7/70
634 Longmeadow Circle
Longwood, FL 32779
407-342-1048
barryl@gametime.com
 
Logsdon, Jim  – Sgt. – 1st Platoon – Binh Phouc – 5/70 – 8/70
422 E 650 N
Attica, Indiana 47918
765-762-3937
redbird560@wildblue.net
Looking for the real name of Blue the Medic.
He was there somewhere around 4/70 to 8/70.
 
 Lopez, Salvador,T. –  Rach Kien – 02/68 – 02/70
693 Artic
Oak Grove, KY 42262
931-233-1600
M.Withrow@mchsi.com
Does anyone have any info on obtaining the patches we wore on our uniforms?
 
Mabus, Barry  – 9/67-12/67
barrymabus@yahoo.com
 
Makemson, Jack S. – Dong Tam – 9/67 – 11/67
2606 SR 508
West Liberty, OH 43357
937-465-6565
thetachi1965@gmail.com
I was wounded at Fire Base Cudgel Nov.18,1967. I received the Purple Heart and the Silver Star.
 
 Mallory, Robert E. – 1st Plt –   Binh Phuoc – 10/67 – 1/69
288 No Barlow Lane
Bishop, CA 93514
760-937-3372 yellowjac3@verizon.net
I was with Bandido Charlie at Binh Phuoc Company C 5th Bn 60th Inf 9th Inf div and I was with Bandido Charlie at Lai Kai Company C 1st Bn 16th Inf 1st Inf Div. I was in charge of the LP along the river when we heard the enemy. We fired our claymores and M-16's. That set off the battle at fire support Cudgel. I see on the web site that the name and legend of Bandidi Charlie lives on.
 
Matney,Larry D. – 2nd Platoon – Rach Kien – Binh Phuoc
8/69 – 10/70
Ocean Springs MS
Ldmatney@yahoo.com
 
Mayville, Ronald James – 3rd Platoon – 08/67 – 08/68
5248 Brown Road
Adams, New York 13605
315-465-4117
cell – 315-345-2445
mayviller@aol.com
 
Mc Aloon, Patrick C. – 2nd Platoon – Rach Kien, Long An – 1/69 – 1/70
Daniel T. Roy
8304 Stonwall Dr.
Vienna, VA 22180
800-683-6567
pcmc265.va@netzero.com
 
McClean Michael Anthony "Cowboy" – 1st Platoon – Rach Kien – 68-69
4491 South El Pomar
Templeton, California 93465
mccleanmichael1@gmail.com
Can you help me fine the men that were wounded or K.I.A from Charlie company on March 14th, 1969. The bush I pooped on one of my own platoon. It's time to make (Amends) Thanks.  Cowboy!!
 
McConnell, Robert H.- 1st Platoon – 10/68 – 6/69
1206 Georgia Street
Vallejo, CA 94590
707-642-4500
rhmclaw@yahoo.com
 
McDill, Sager – Dong Tam – 12/66 -11/67
451 Filmore Drive
Verona PA 15147
412-951-1472
mac_d1967@yahoo.com
Welcome Home Bandidos !!.
Looking for 2nd Platoon Bandidos 1967. 
 
McDonald Charles E "Mac" – 1st Sergeant – Dong Tam – 6/67 – 6/68
106 Tidewater Drive
Bradenton, FL 34210
941-752-6369
cmcdonald90@tampabay.rr.com
USA Army Ret. I was 1st Sergeant to Lt Larry Garner.
 
McManigle, Wally – 10/69-11/70
lonewolf@3rivers.net
 
Mileski, James E. – Dong Tam – 12/66 – 8/67
12 Arbor Court
Yardville NJ 08620
609-324-2701
jamesmileski@msn.com
One of the Original Bandido's.
 
Miller, Larry  – 1st Platoon – Binh Phuoc – 3/68-10/68
 
Miller, Richard L. – Lai Khe – Dong Tam – Rach Kien – 9/68 – 4/69
724 Delta Avenue #19
Cinti, OH 45226
513-321-4170
rmiller5@fuse.net
The memories of the times are burned into the heart even as the mind grows cloudy.
 
Mintz, Jim – Rach Kien – 7/69 – 6/70
jimmintz@charter.net
I came to the 5/60th after one month with the 3/60th. I have been back to Rach Kien during a trip to a wedding in Vinh Long a few years back. Still HOT! We were told that all the US built buildings were tore down in < 1 hour after the troops pulled out to take the materials. I have enjoyed talking to several of you guys since I found this site. Thanks for the web site efforts. .
 
Mitchell, John D. – Medic
 
Morris, Charles E. – Rach Kien – 1/69 – 2/70
318 Haynie Mill Road
Belton, SC 29627
864-245-0323
kooldaddyz@aol.com
Looking for info or to hear from Bob Mancil and Bob McClenahan or anyone who fought with me.
 
Murphy, James R. – Dong Tam, Bear Cat, Benewah – 4/67- 9/67
710 W. Elizabeth St.
Kouts, IN 46383
219-766-2269
j.murph@frontier.com
 
Nall, James O. – 1st Platoon – Binh Phuoc – 8/67 – 1/68
1208 East 127th Street
Los Angeles, CA 90059
323-566-0196
Nallpro44@aol.com
Charlie Company 5th/60th 9th Inf Div. 18Nov67 at a battle at support base Cudgel, northwest of Cai Lay, I received the Bronze Star "V" and Purple Heart.
 
Newby, Terrell C.  – Tan An – 09/67-09/68
8106 – 204th Avenue Court East
Bonney Lake, Washington 98390
253-891-7921
doc2464@msn.com
I would like data on the TET '68 attack when I was OD for HQS. Is there an After Action Report, roster of assignments, etc.?
 
Niver, Gary. – Binh Phuoc – 2/68- 9/68
3171 Abbottsford Road.
Clyde MI 48049
810-252-4456
gniver@tds.net
 
O'Dell, Gerald F.  – Lai Kai- 10/68 – 10/69
1910 Tabor Road
Gadsden, AL 35904
256-546-0676
geraldodell@msn.com
Originally had orders for Charlie Co., 5th of the 60th, 9th Inf. Div., few days later moved to C. Co., 1st, 16th, 1st Inf. Div.
 
Palmer, Anthony, B. – Dong Tam, Binh Phouc – 05/67-05/68
2901 S. 510 Rd
Miami, OK 74354
918-541-5348
mtpalmer@hotmail.com
Was in Mortar Platoon. Served under the Original Bandido Charlie, Lt. Larry Garner.  Was a Bandido Charlie from May 1967 to May 1968. Drove C-42 "Wild Thing".  Guys I knew, Lee Hunter, Darrell Welch, Rocky Susshine, Leo Linder, Lou Carilli.
 
Parrish, Cecil Wayne – 4th Platoon – 09/1967-05/1968
Charles A. Stovall Lynwood Norwood
2272 NC Highway 56 E
Louisburg, NC 27549
919-496-4323
wonderfulwayneo@aol.com
 
Patterson, Stanley E.. – Rach Kien – 2/69 – 2/70
7810 Idyle Wild Rd
DuQuoin, IL 62832
618-542-5133
stanleypatterson86@yahoo.com
Served in Charlie Co 2/69-4/69, then went to Echo Co. SSG.
 
Peluso, Tom J. – Mortar Platoon – Rach Kien – 6/68 – 6/69
tomaag@cox.net
Served under Sgt. Kent.
 
Perez, Joe A. – Rach Kien – 6/68 – 6/69
510 Horseshoe Way Loop
Cleveland, TX 77328
281-432-1253
dakota_joe@peoplepc.com
 
Poe, Bobby G. – Rach Kien – 9/68 – 6/69
PO Box 471
Jasper, TN 37347
423-942-5628
cell – 423-838-2469
 
Polancih, Daniel M.. – Dong Tam – Binh Phouc – 12/66 – 12/67
2329 Peacock Road
Wellston, MI 49689
231-859-4252
dansplace@kaltelnet.net
I served directly under LT. Larry A. Garner. Very surprised to see such a fantastic website.
 
Poris, Clifford L. – Binh Phuoc – 8/68 – 10/68
2253 SW Edison Circle
Port St. Lucie, FL 34953
772-834-5034
cpbandido@yahoo.com
 
Posey, Ronnie D. – Mortars – Rach Kien – 2/69 – 3/70
1917 Darbyshire Drive
Defiance, OH 43512
419-782-7553
 
Pounders, Richard D. – Rach Kien – 10/68 – 8/69
6413 Newman Circle W.
Lakeland, FL 33811
863-644-6921
thepoundersinfl@msn.com
 
Prance, Norman – 3rd Platoon R.T.O. – Rach Kien – 9/68-6/69
2505 E. Bradford Avenue # 2302
Milwaukee WI 53211
414-228-5386
Norman came to the 5th/60th from the 1st/16th, 1st ID in 9/68. He served initially as an RTO in 3rd Platoon. Later he served both as Company and Battalion RTOs. Returning to Wisconsin, Norman became a law professor. A major stroke suffered 20 years ago has left Norman with some communications problems. Nevertheless, he would love to connect with anyone who remembers him from Vietnam. Contact Norman through Bob Cooper listed above. Submitted on Norman's behalf by Metz, 5th/60th Secretary.
12/27/2007 — Norman's sister, Betty Burns and his niece, Meredith O'Leary, have each made a donation to the 5th/60th Association fund in Norman's honor.
 
Proffitt, Arlen H. "Butch" – Rach Kien – 5-69 to 4-70
General Delivery
Hutchinson, Kansas 67501-9999
620-200-2062
arlenbutchprofitt@cox.net
I served with The 2nd squad and carried the M-79 grenade launcher.
 
Raczkowski, Wayne A. – Dong Tam – Binh Phouc – Tan An South – 8-67 to 6-68
18 Joy Drive
Loudonville New York 12211
518-459-2778
chipshotski@yahoo.com
I served with Charlie Company then transfered to Recon.
 
Reed Gary L. – Rach Kien – 10/68 – 8/69
3980 Williamsburg Bantam Road
Batavia, OH 45103-9409
h-513-724-1746
c-513-675-8773
 
Reelitz, Daniel N.  – Rach Kien – 1LT. – 3rd Platoon – 8/69-11/69
reezil@aol.com
3rd Platoon. Leader – Wounded and medivac Thanksgiving Day 1969.  I would like to hear from platoon members.
 
Reust, Ronald  – 1st Platoon – Dong Tam – 12/66-07/67
4676 Bryenton
Litchfield, Ohio 44253
whirlawayr@earthlink.net
Stationed at Tan Hiep airstrip.  Moved to Dong Tam.  Last engagement was Dinh Thuong operation in July 1967.  Awarded Purple Heart with 2 Oak leaf clusters.  First platoon third squad was the greatest!
 
Rice, Duane Dick – 2nd Platoon – Rach Kien – 10/68 – 9/69
S. 64 W. 18591 Topaz Drive
Muskego, WI 53150
262-679-3103
rice-d@att.net
Rach Kien 68-69.
 

Roberts, James E. – CO – Dong Tam – 6/69 – 7/70




337 Margette Way




Idaho Falls, ID 83402




208-521-0861


Ranger_B175@Yahoo.com


C Co CO, S5, S3 Air




 

Roberts, William Tyrone Sr. – 3rd Platoon – Rach Kien – 3/69
When I went to Vietnam it was like another world, (people, climate, and food, etc.) I was a Charlie Ranger and got hurt in the line of fire in Saigon and was sent to Japan for 2 months before being sent back to Vietnam.
 
Robinette, James E. – Rach Kien – 3/70 – 9/70
50886 Nature Drive
Chesterfield Twp., MI 48047
586-421-0290
rjerobinette@comcast.net
 
Robinson, Richard Earl – 1st Platoon – Rach Kien – 9/68 – 7/69
1202 Toney School Road
Toney, AL 35773
256-859-9254
wilmaallison@bellsouth.net
Alive and hanging on.
 
Rogers, Robert D. (Skip) – 2nd Platoon – Rach Kien – 10/68 – 8/69
224 Rogers Drive
Whitwell, TN 37397
 
Rognes, Dennis C. – 3rd Platoon – Rach Kien – 10/68-8/69
Jay D. Rumsey James P. Riggins  Theophilus Bowles
45152 Hwy 69
Lake Mills, Iowa 50450
641-590-4403
Dennis@DennisRognes.com
I carried ammo for Rasa and then RTO for Chapman, Riggins and Bridges. I became company clerk and have a calendar with dates of all WIA and KIA for Charlie company Nov 68 thru July 69. Had my son's class do tracings of over 20 of our brother's names at the WALL while on a trip to DC in 2000. I will never forget my Vietnam Brothers. Peace and Grace to all of you  

Rudes, Tennence R. – Mortars – S3 – Dong Tam, FB Moore, Rach Kien – 8/68 – 7/69
216 Adams Street
Port Clinton, OH 43452
419-732-3000
trudes@cros.net 
Assigned to C Co. 1/16th 1st Inf Div. 2nd Platoon Leader. Had patrols around Lia Khe.  Moved to 5/60th at Dong Tam and patrolled of there and Fire Base Moore until unit moved to Rach Kein.  Served under Capt Goss, great guy.  RIP. 1/1969 assigned to Bde. S-3 and wrote Bde. history every day.  3/1969 transferred back to Rach Kein as Plt. Ldr. 4.2 mortar platoon.  When Nixon started withdrawal, I was a short timer and was transfered to 3/60th Riverine for withdrawal and parades in Seattle and Tacoma.  Remember when the Div ammo dump was blown up and a time when A company had helicopter shot down on insertion to a doughnut.  I was wounded in that one.  I'd love to hear from anyone who remembers me and share memories. Real great group of soldiers all.

Rufenacht, Kenneth Lester – Binh Phuoc – 8/67 – 1/68
937 SE 671
Deepwater, MO 64740-9689
417-644-2647
klrufenacht@hotmail.com
I also served with Alpha Co 3/47, 3rd Plt. 1/67 – 6/67.
 
Russell, Thomas A. – Company Commander
 
Santillon, Luis  – 10/67-10/68
6001 Buckingham Drive
Bensalem, PA 19020
LSantillon@ecfmg.org
 
Sassano, Joseph L. – Rach Kien – 3/69 – 3/70
609 South Liberty Avenue
Endicott, NY 13760
607-239-6623
jossass@aol.com
Welcome home bro.
 
Schiappa, Dario R. (Rick). – Binh Phuoc – 4/68 – 4/69
28 Riverview Avenue
Binghamton NY 13904
dario.schiappa@aol.com
Nickname: Rick Would like to know if anyone remembers serving with me, especially under Capt. Scarborough; Participated in May Offensive ('Y' Bridge, Cholon Market). I served with Bandido Charlie as a rifleman, M-60 gunner and M-79 thumper. I rode the PC using the 50. Caliber. I became a track driver (my track was called "Sturm Abteilung"), became an RTO for Charlie 6 and participated in May (Mini-Tet) Offensive and Counter Offensive. I transfered from 5/60, 9thID to 1/16, 1stID
Long Live Los Bandidos!!.
 
Schmitt, Pat – Medic – Dong Tam – 10/67-11/67
18075 County Road # 367
Buena Vista, CO 81211
719-395-8712
PatSchmittC360@aol.com
Served as a medic with C/5/60 in Dong Tam. When C/5/60 moved to Binh Phuoc I was shifted to C/3/60.
 
Shalberg, John – Binh Phuoc – 10/67 – 12/67
1402 Caves Camp Road
Williams, OR 97544
541-846-0570
My nickname was "Crazy". I'm looking for Willie Eatmon
 
Simmons, Jeffrey J.  – 1/69 – 1/70
20 Church Street
Lee, MA 01238
413-629-3422
simmonspeople@roadrunner.com
2405 S. 4th Street
Effingham, IL 62401
217-347-7981
ibslate@consolidated.net
Medic assigned to Charlie Co. September, 1969, WIA 9-28-69.
 
Sparaco, Anthony (Tony) – Rach Kein – 9/68 – 4/69
Warren J. Goss Dennis A. Holzheimer  James P. Riggins 
Theophilus Bowles In Honor of all who served in the 5th Bn 60th Inf 9th Inf Div.
7 Beryl Lane
Farmingdale, NY 11735
516-293-6219
tony_sparaco@yahoo.com
Arrived RVN July, 1968. Assigned to Charlie Co. 1st/16th, 1st Inf. Div. In September 1968 our battalion became 5th/60th, 9th Inf. Div. Went to Dong Tam and then to Rach Kein. I was a rifleman and then became an RTO for Captain Goss. I was wounded 2/14/69 by an incoming mortar round in basecamp at Rach Kein. I was wounded again (chi-com granade)on 3/11/69 as an RTO carrying a radio for Captain Gober. I was hospitalized in RVN until 4/69 and then hospitalized in Okinawa until 5/69. Separated from the Army from Fort Dix, NJ 2/18/70.
 
Sprenkel, Jeffrey L. – Rach Kien – 11/68 – 3/69
64 Meadowview Drive
Dover PA 17315-3078
717-854-7486
jeffsprenkel@yahoo.com
Sgt Denker taught me how to be a point man but I didn't spend enough time there due to friendly fire…Wounded 3/14…I think about you guys a lot.
 
Stull, Terry G. – Commanding Officer – Binh Phouc – 4/70-10/70
in Honor of Charlie Rangers
694 Rocky Woods Cove
Cordova, TN 38018
901-757-1158
stull66@comcast.net
 
Sullivan, David S. – 3rd Plt – 3/69 – 6/69 – Rach Kien
6748 Delong Landing Cir
Anchorage, Alaska 99502
907-349-7826
dave@jdinteriors.com
Thank you, Tony Sparaco, for enlightening me to this organization. It's great to see names I remember, and had the honor to serve with and would enjoy hearing from yawl!
 
Susshine, Rocky Frank – 3rd Platoon – 4th Platoon – 68-69
2124 Cass St
Sarasota, Florida 34231
941-922-0350
rsusshine@hotmail.com
First there was 3rd. platoon… carried the 30cal.  Then mec. unit 4th platoon  forward observer.  Sgt. Price was my First sgt.  What ever happened to Galino, Tony  and Pinapple we used to box together back at bass camp.  I would take on all comers from artillery.  My company would always bet on me.   Things are different now. That was a good time.  See ya. Rocky
 
Taylor, Charlie  – Executive Officer – Commanding Officer – 6/67-6/68
Larry A. Garner
charlietaylor@cableone.net
Charlie Co Platoon Ldr, XO, CO
Taylor, Edward M. – Rach Kien – 5/69-4/70 – Sgt
1042 Chapel Creek Trail
Enter Your City, New Albany, IN 47150
502-419-4798
edmtaylor72@gmail.com
 
Te Slaa, Norman – Rach Kien – 12/68 – 12/69
8700 W. Dakota Ave.
Lakewood, CO 80226
303-980-9184
norm@normteslaa.com
 

Tirreno, Lawrence – 2nd Plt – Dong Tam – 12/66 – 7/67
137 Riverside Avenue
Westport, CT 06880-4605
Bandidoc@aol.com
Original member of Bandido Charlie, formed when Lt. Garner converted us to Cavalry.
 

Treguboff, Michael J. – Rach Kien – 12/68 – 8/69
361 Nevis Street.
Morro Bay Ca 93442
805-772-3342
tregu@charter.net
 
Trussell, Neil – Rach Kien – 12/68 – 3/69
110 Tulip Tree Trail
Estill Springs TN 37330
931-808-7942
I received a Bronze Star the same day Sgt Tom Tepper received his Silver Star. I was wounded in the Plain of Reeds in March 1969.
 
Vertrees, Gary P. – Binh Phuoc – 1/68 – 1/69
7703 1/2 60th Street East
Puyallup WA 98371
253-848-6900
mini5farm@yahoo.com
 

Volin, Mark R. – Rocky Kilo – 2/70 – 6/70
630-960-1788
markvolin007@gmail.com
Hey Go-Devils Check out my pictures on the "Photos" page.Anybody recognize anybody else? I was in C company starting Feb. 10th, 1970. Went into Cambodia in May. Went to the hospital in June (Cam Rahn Bay). Released from the hospital in Sept. and the 9th was GONE. The Army then sent me to the 7th Cavalry. Questions ? Comments?  

Wade, Michael B. – Rach Kien – Mortars – 3/68 – 3/69
wyatt3416@aol.com
 

Wagner, Harry C. – Binh Phuoc – Lia Khe – 3/68 – 3/69
2020 Ezekiel Avenue
Zion, IL 60099
847-746-3154
hcw2020@ameritech.net
I carried the radio and rode on Lanny Jones's track.
 

Waldo, James R. – Forward Observer – Rach Kien, Binh Phuoc, Shakey's Hill –
10/69 – 9/70
1100 Tedford Way
Oklahoma City, OK 73116
405-848-4006
Robert J. Carnaghi
jwaldo@mswerb.com
I was Charlie Company's forward observer in 1969-1970. Although I have lost contact with almost everyone, I believe that you take some part of those to whom you were close with you…and there is still a lot of "Eight Charlie" left in me. What a great service this web site is.
 

Walker, Arthur I. III – 1St Platoon, SSG – Lai Khe – Dong Tam – Rach Kien – 7/68 – 7/69
4008 Salmon Drive
Orlando, FL 32835
407-293-4720
art@cma-mortgages.com
While with the 1st Inf Div, Capt Goss replaced our wounded CO. Capt Goss was an exceptional leader and Charlie company was fortunate to have him for five months. Thru these many years, he has been my strongest memory of VN. I returned home with the first unit to be withdrawn. After completing college, I joined the Navy and as an Ensign onboard the USS Cochrane DDG-21, returned to VietNam in April 1975 to participate in the largest helicopter evacuation in history, evacuating the remaining military, civilian, and embassy personnel from Saigon. In 1991, as a Commander, I retired fom the Navy and opened a real estate and mortgage brokerage business in Orlando, Florida.
 

Wells, Henry – 3rd Platoon – Dong Tam – 05/66-11/67
In Memory of the 5/60
8 Beech Street
Belleville, NJ 07109
973-751-3593
gold9173@msn.com
Squad leader 1st squad/ 3rd platoon
 
Wesley, Donald – 2nd Plt – Rach Kien – 10/68 – 10/69
561-471-4647
dwwesley@bellsouth.net
 
West, Richard J. – 2nd Platoon – Bear Cat, Dong Tam – 12/66 to 07/67
rj_west@comcast.net
 
White, Chuck  – E5 – 2nd Platoon – Rach Kien – 07/69-09/69
Sergeant E5 squad leader with 3/47th (Mobile Riverine Force) at Tiger Lair from 05/69 to 6/69.  Sent to C Co.2nd Platoon 5/60th at Rach Kien.  Was squad leader there also from 7/69 to 09/15/69 when wounded and shipped stateside.
 
Williams, Lewis M. – Tan-Ann – 10/16/67-02/13/68
1190 Duchess Dr.
Mt. Pleasant, NC 28124
704-436-6805
lmwilliams@co.cabarrus.nc.us
 
Winslow, Wendelin W. "Wendy"  – Capt. – Commanding Officer – Binh Phuoc – 05/68-11/68
4166 Governor Yeardley Lane
City of Fairfax, Virginia 22030
703-359-9035
wwwfairfax@cox.net
I was the Charlie Company Commander ("Bandido 6") from early May of 1968 until November 1968.  Please note that the Battalion changed designation in September of 1968 to the 1/16th Infantry (The "Iron Rangers") and after our Battalion road march thru Saigon ended up in Lai Kai, northwest of Saigon and became part of the 1st Infantry Division.  But, I think like most of us we are very loyal and proud of our association with the 9th Infantry Division.  It was a great fighting Infantry Division and came out of Viet Nam with an outstanding reputation.  I am very proud to join up with this very special "band of brothers".
 
Woods, Leo E. – Rach Kien-Binh Phouc – 12/69-06/70
2737 Hwy 13
Ryan, Ia 52330-8540
lpwoods@iowatelecom.net


 

Ybanez, Fred  – Binh Phuoc – 5/67 – 8/67 and 11/69 – 5/70


4 Wyatt Earp Drive




Belton TX 76513




254-702-7296


firstsgt50@aol.com


Would like to hear from anyone who has made a trip back to Binh Phuoc,Vietnam. I am thinking about returning to visit Binh Phuoc. Need advice and recommendations.